Back to top
Company Overview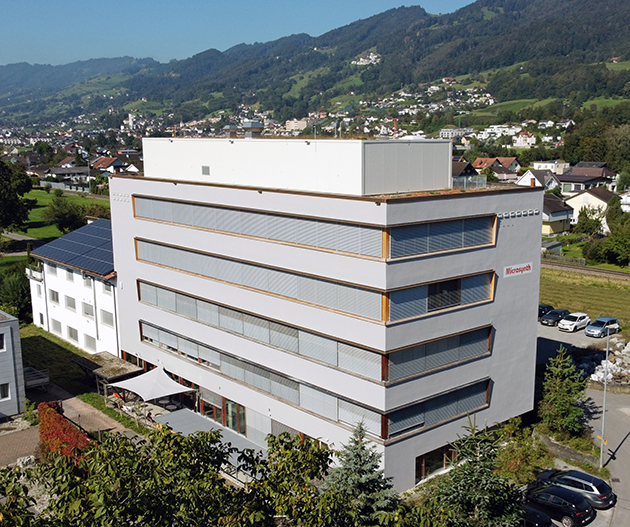 Microsynth ecogenics provides comprehensive molecular marker development, and at the same time related services such as genotyping. Our goal is satisfied customers who retain confidence in our products and services in the long run. With most of our customers (research institutes and private companies worldwide) we have recurring projects or long-lasting collaborations.
Microsynth ecogenics proudly looks back onto 14 years experience of serving customers in various fields of molecular biology. Founded as a spin-off company from the University of Zurich, Microsynth ecogenics successfully managed to establish a good reputation as a reliable partner providing high quality services.

Since 2011 Microsynth ecogenics GmbH is part of Microsynth AG.

Please feel free to contact us with any project or problem from the field of molecular biology. We would be very happy to discuss how we can provide a solution for your individual requirements and to provide information on conditions and pricing.
Company Mission
It is Microsynth's mission to be a leading service and solution provider for molecular biologists who require either high-quality DNA/RNA oligonucleotides, robust DNA/RNA sequencing & analysis solutions, or want to outsource entire research projects.
History and Introduction
Microsynth was founded by Dr. Tobias Schmidheini in 1989 and is currently active in three different business areas. When Dr. Schmidheini started in 1989 to produce DNA oligonucleotides on behalf of Swiss academic institutes, he was one of the pioneers in this area. Meanwhile the company is offering its numerous customers a broad spectrum of high-quality DNA/RNA oligonucleotides for research but also for molecular diagnostic applications. In 1992 the company decided to enter the business field of DNA sequencing. Today, the company is also well positioned in this area being able to offer its customers both traditional Sanger sequencing services as well as state-of-the-art next generation sequencing services. The third business area (contract research & outsourcing) is essentially a combination of DNA/RNA synthesis with DNA/RNA sequencing along with other critical expert areas (DNA/RNA isolation, PCR & qPCR, genotyping, advanced bioinformatics) where customers can rely on Microsynth's broad expertise and outsource entire research projects.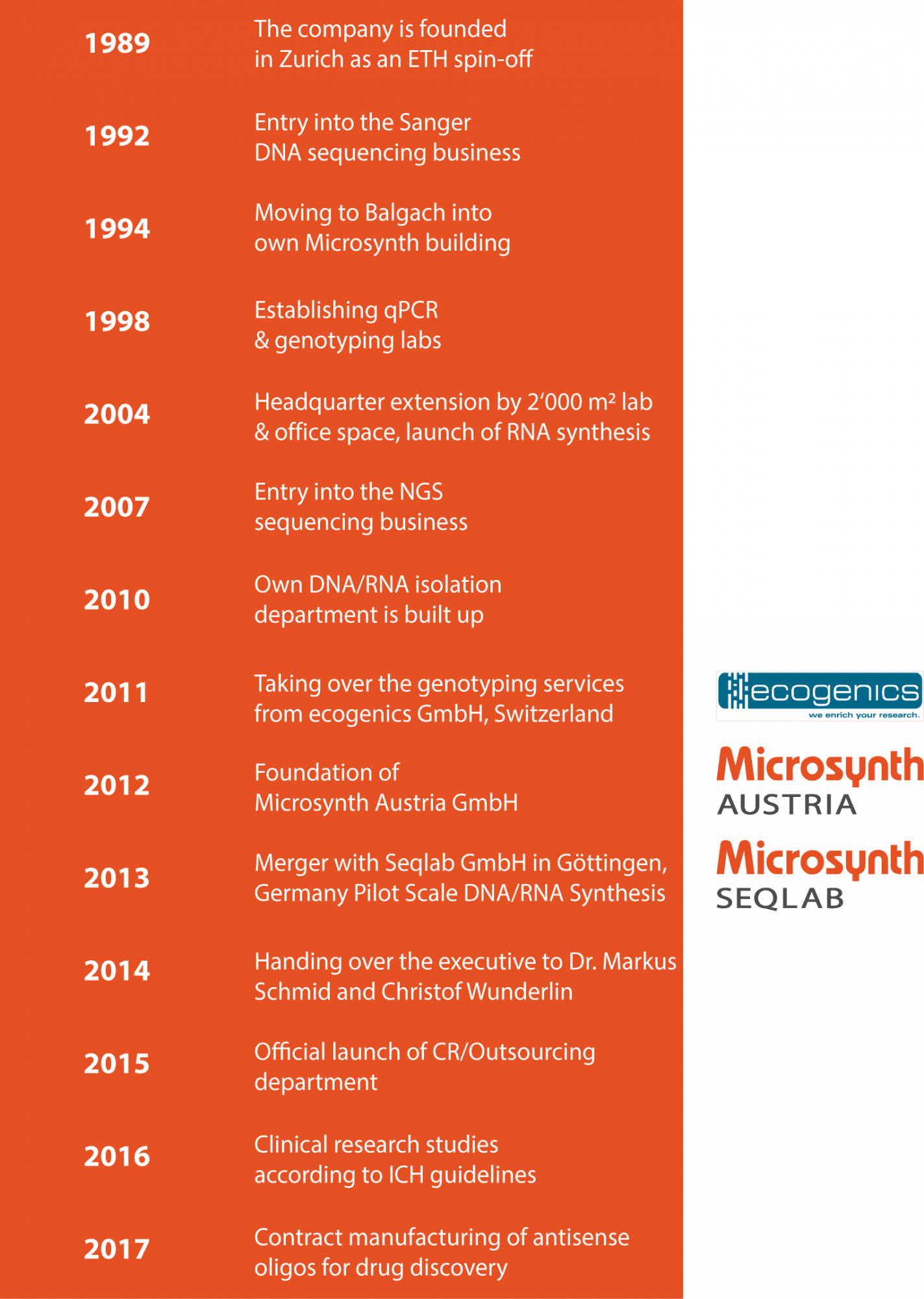 Our Brand Promise
As a pioneer in our field, we have gained a lot of critical know-how and experience related to DNA/RNA services since our incorporation in 1989.
This expertise is our most valuable asset and we give great importance to increasing our expertise through our commitment to technical competence, diligence and reliability. For almost three decades, our objective has been to serve our customers by delivering products and services of the highest quality, on time and with outstanding service – and all this at competitive prices.
Last but not least, we are committed to sustainable development and to the protection of the natural resources of our planet.
Management
In 2014, after 25 years at the forefront of the company, Dr. Schmidheini decided to step back as CEO and to hand over the operational management to two longstanding and deserved employees. Christof Wunderlin (in charge of Sales, Finance and HR) and Dr. Markus Schmid (in charge of operations and Quality Systems) have committed themselves to advance the internationalization and further growth of the company but not neglecting the golden rule of Microsynth doing business in a sustainable and socially responsible way.
Left: Christof Wunderlin / Center: Tobias Schmidheini / Right: Markus Schmid